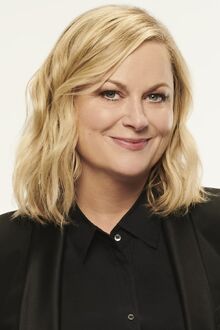 Amy Meredith Poehler (born September 16, 1971) born in Newton, Massachusetts, is an American actress, comedian, voice artist, producer and writer. She portrayed Mrs. George in the movie Mean Girls.
Poehler was a cast member on the NBC television series Saturday Night Live from 2001 to 2008 and became co-anchor of SNL's Weekend Update in 2004 alongside friend and colleague Tina Fey, who both directed and starred in Mean Girls as well.
Personal Life
Poehler married actor Will Arnett on August 29, 2003, and had a recurring role on the series Arrested Development as the wife of Arnett's character Gob Bluth. They also played a quasi-incestuous brother-sister ice skating team in the 2007 film Blades of Glory, and appeared together in Horton Hears a Who!, On Broadway, Spring Breakdown, and Monsters vs. Aliens, along with Arnett having a guest appearance on Parks and Recreation. Both also did voice acting in The Secret World of Arrietty.
Together, they have two sons: Archie and Abel.
However, Poehler and Arnett announced on September 6, 2012, that they were separating. Arnett filed for divorce on April 8, 2014. The divorce was finalized on July 29, 2016.