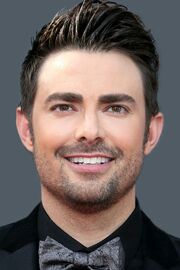 Jonathan Bennett
(born June 10, 1981) is an American actor who played the role of
Aaron Samuels
in
Mean Girls
.
Other than that, Jonathan is known for playing the title character in the 2009 direct-to-DVD comedy Van Wilder: Freshman Year and his recurring roles as Casey Gant in the UPN mystery drama Veronica Mars and J. R. Chandler in the ABC soap opera All My Children.
Aside from his acting career, he is also a part-time model.
Early life
Bennett was born in Rossford, Ohio to David Bennett, a Toledo physician, and Ruthanne Bennett (née Mason). He has two half-brothers, Brian and Brent and one half-sister, Lisa. Both of Jonathan's parents have died. His mother died November 30, 2012, at the age of 67, and his father died of brain cancer on April 28, 2014 at age 73.
Jonathan attended Eagle Point Elementary School in Rossford. His first acting experience was in a play in the seventh grade while living in North Carolina. Shortly after that, he moved back to Rossford, where he attended and graduated from Rossford High School. He graduated in 1999 and attended Otterbein College, where he was a student of the theatre program. After dropping out of college, he moved to New York to pursue acting.
Career
After moving to New York, he was cast on the ABC soap opera All My Children as J.R. Chandler from 2001 to 2002. Since then, he has appeared in various television dramas, including Law & Order: Special Victims Unit, Deception, Smallville, and Veronica Mars. Bennett co-starred in the hit comedy Mean Girls with Lindsay Lohan where he played Aaron Samuels, the love interest of Lohan's character Cady Heron. He subsequently co-starred in the family comedy Cheaper by the Dozen 2 with Piper Perabo and the romantic comedy Lovewrecked with Amanda Bynes. Bennett appeared in the direct-to-video prequel The Dukes of Hazzard: The Beginning where he played Bo Duke. Also in 2009, he appeared as Nick in the Hallmark original movie Elevator Girl with his Mean Girls co-star Lacey Chabert and Ryan Merriman.
In 2009, Bennett starred as the title character in Van Wilder: Freshman Year, which was released straight to DVD.
As of 2015, he is hosting a cooking competition on the Food Network called Cake Wars.
Personal Life
In September of 2014, Jonathan officially came out as gay.
Trivia