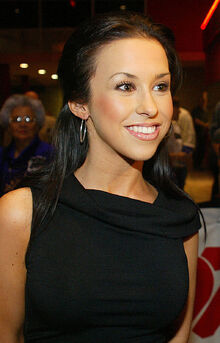 Lacey Nicole Chabert (born September 30, 1982) is an American actress and occasional voice actress who portrayed Gretchen Wieners in the movie Mean Girls.
Even though she already starred in popular movies beforehand, such as Not Another Teen Movie and Daddy Day Care, Chabert's notable role in Mean Girls catapulted her career. From 2004 to 2016, Lacey has starred in over 30 movies.
Some of her work also includes several voice roles, such as the voice of Eliza Thornberry in the animated comedy movie Rugrats Go Wild (2003) and Aleu in the Northern animated film Balto II: Wolf Quest (2002).
Early Life
Lacey was born in Purvis, Mississippi, as the daughter of Julie and Tony Chabert. Her father, a French-speaker from Louisiana, is of Cajun, Sicilian and English descent; he worked as a maintenancence operations representative for an oil company, while her mother has English, Scottish, and remote Italian ancestry.
Chabert also has a younger brother, and two older sisters.
Career
She first gained prominence as a child actress on television for her role as Claudia Salinger in the television drama Party of Five (1994-2000). When it comes to movies, Lacy has appeared in Lost in Space (1998), Not Another Teen Movie (2001), Daddy Day Care (2003), Mean Girls (2004), and the horror remake Black Christmas (2006).
In 2007, Chabert starred in the pilot episode of the Fox comedy "The Hot Years", which revolved around the lives of four female friends who live together. The pilot was not ordered to series by Fox.
Chabert was featured as cover girl of the January 2007 issue of Maxim, and again in November 2013.
From 2013–2014, Chabert had a recurring role on the ABC Family sitcom Baby Daddy as Dr. Amy Shaw.
Personal Life
Chabert married her longtime boyfriend, David Nehdar, on December 22, 2013, in Los Angeles. On February 27, 2016, she announced via Instagram that she and her husband are expecting their first child. On September 1, 2016, the couple welcomed their daughter, Julia Mimi Bella.
External links