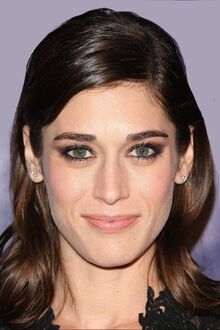 Elizabeth Anne "Lizzy" Caplan (born June 30, 1982) is an American actress who portrayed Janis Ian in Mean Girls.
Early Life
Caplan was born and raised in the Miracle Mile district of Los Angeles, California. Her family were Reform Jews. Her father was a lawyer and her mother was a political aide. She was the youngest of three children with an older brother and sister. Her mother died of illness when she was 13 years old. Her uncle is publicist Howard Bragman. Caplan attended Alexander Hamilton High School, and was a student at the school's Academy of Music. She first focused on playing the piano, then later decided to pursue drama. She was also on her school's soccer team. She graduated in 2000, but did not attend college because it was time consuming and she wanted to focus on acting.
Career
After starting her career in the critically acclaimed television series Freaks and Geeks in 1999, Caplan started to get wider attention for her roles in films Mean Girls (2004) and Cloverfield (2008) for which she was nominated for Saturn Award for Best Supporting Actress. Caplan also starred in television shows The Class, True Blood, and Party Down. She stars as Virginia Johnson in the Showtime series Masters of Sex, for which she was nominated for the Primetime Emmy Award, Satellite Award and Critics' Choice Television Award, all for Outstanding Lead Actress.
Personal Life
Caplan began dating actor Tom Riley in 2015. They became engaged in May 2016. She is the godmother of the daughter of actress Busy Philipps and screenwriter Marc Silverstein.