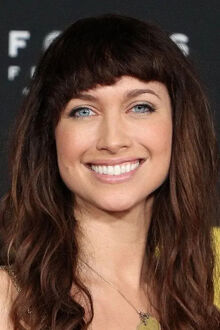 Maiara Walsh (born February 18, 1988) is a Brazilian-American actress and singer, who portrayed Mandi Weatherly in Mean Girls 2.
Aside from her role in Mean Girls 2, Walsh is best known for playing Ana Solis on the sixth season of the hit ABC show Desperate Housewives and as Meena Paroom on the Disney Channel sitcom Cory in the House. As of 2013, she portrays Simone on Switched at Birth.
Personal Life
Walsh was born in Seattle, Washington to a Brazilian mother and American father of Irish, German, and Swedish descent. She speaks fluent Portuguese and is proficient in Spanish. 
Walsh and her family moved to São Paulo, Brazil when she was two years old. At 11, she moved to Simi Valley, California to pursue her acting career. She attended & graduated from Royal High School in 2006.
Career
In the fall of 2010, she guest-starred on CW's The Vampire Diaries as Sarah. In Atlanta, Walsh then filmed Mean Girls 2 as Mandi Weatherly, an A-list clique girl. Walsh was also on the Dr. Phil Show. In the segment, she revealed painful memories from her time in primary school and gave advice to teens on how to best empower themselves. Later that day, Walsh shared some advice during a live webcast, sponsored by the Dr. Phil Show.
Walsh was the female lead in the television series Zombieland as Wichita, taking over the role from Emma Stone. After filming the pilot episode, the series was not picked up.
Walsh has had a recurring part since 2013 as Simone Sinclair, a former friend of Bay Kennish, a one-night stand with Emmett Bledsoe, friend/ex-girlfriend of Toby Kennish, and ex-girlfriend of Wilkie, in Switched at Birth.
Philanthropy
Walsh is an avid philanthropist and spends much of her time volunteering and coordinating community projects, ranging from supporting children with disabilities to writing a personal advice blog. In addition to philanthropy, Walsh also has personally written back to fans via her official Facebook page.