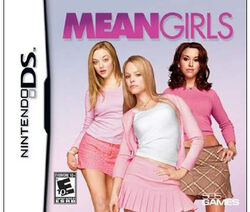 Mean Girls DS is a puzzle game developed and published by 505 Games.
The game is based on the 2004 teen comedy film, Mean Girls. It was released for the Nintendo DS handheld game console in Europe on September 11, 2009 and two years later in North America.
Game play
The game is a single-player puzzle game and allows the player to "combine similarly coloured jewels, shoes and lipstick. Chain combinations together and you can unleash 'rumours, pranks and put-downs'". The gameplay of the video game has been called similar to the PC game based on the film, Mean Girls: High School Showdown.