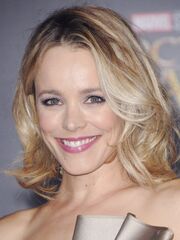 Rachel Anne McAdams is a Canadian actress who portrayed Regina George in Mean Girls.
For her portrayal of the main antagonist in Mean Girls, McAdams won the MTV Movie Awards Breakthrough Female Performance award.
Due to her success in teenage movies, Rachel McAdams was hailed by the media as Hollywood's new 'it girl' and received a BAFTA nomination for the Best Rising Star.
Early Life
McAdams was born on November 17, 1978 in London, Ontario to Sandra Kay (née Gale), a nurse, and Lance Frederick McAdams, a truck driver and furniture mover, and grew up in nearby town of St. Thomas. McAdams is the eldest of three children, with a sister, Kayleen, a celebrity make-up artist, and a brother, Daniel.
She is also of English, Irish, Scottish, and Welsh descent.
McAdams first developed an interest in performing when she was seven years old, and while her parents did not discourage her, they did not "go out and find [her] an agent". From the age of twelve, McAdams participated in Original Kids Theatre Company, London productions. In her late teens, she directed children's theatre productions. She also was involved in school stage productions, most notably winning a performance award at the Sears Ontario Drama Festival.
Career
After graduating from a four-year theatre program at York University in 2001, McAdams initially worked in Canadian television and film productions such as My Name Is Tanino, Perfect Pie (for which she received a Genie Award nomination) and Slings and Arrows (for which she won a Gemini Award). Her first Hollywood film was the 2002 comedy The Hot Chick. McAdams found fame in 2004, starring in the teen comedy Mean Girls and the romantic drama The Notebook. In 2005, she starred in the romantic comedy Wedding Crashers, the psychological thriller Red Eye, and the family drama The Family Stone. She was hailed by the media as Hollywood's new "it girl"[2][3] and received a bafta nomination for Best Rising Star.
Trivia
Tina Fey joked in the commentaries that Rachel is completely bald in real life. Rachel does wear a wig in Mean Girls which is the root of the joke. She did have hair at the time but it was just too short for the character.