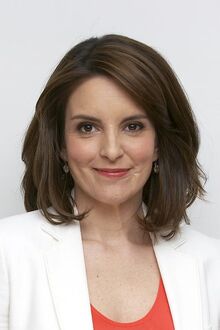 Elizabeth Stamatina "Tina" Fey (born May 18, 1970) is an American actress, comedian, writer and producer who portrayed Sharon Norbury in the movie Mean Girls.
Besides playing a role in the movie, Fey also wrote the screenplay for Mean Girls and Mean Girls: The Musical, loosely based on the non-fiction book Queen Bees and Wannabes by Rosalind Wiseman. Despite the movie's immense success, Fey turned down numerous offers to write a sequel to Mean Girls.
Early Life
Elizabeth Stamatina Fey was born on May 18, 1970 in Upper Darby, Pennsylvania. Her father, Donald Henry Fey (who died in 2015), was a university administrator for the University of Pennsylvania and Thomas Jefferson University and a grant proposal writer who raised $500 million for schools, hospitals, and public service agencies through proposals and direct mail appeals. Her mother, Zenobia "Jeanne" (née Xenakes), is a brokerage employee who was born in Piraeus, the daughter of Greek immigrants to the U.S. Fey's maternal grandmother, Vasiliki Kourelakou, left Petrina (in Laconia) on her own and arrived in the U.S. in February 1921.
She also has a brother, Peter, who is eight years older.
Career
While performing shows with The Second City in 1997, Fey submitted several scripts to NBC's variety show Saturday Night Live (SNL), at the request of its head writer Adam McKay, a former performer at Second City. She was hired as a writer for SNL following a meeting with SNL creator Lorne Michaels, and moved to New York from Chicago.
Originally, Fey "struggled" at SNL, but it all eventually worked out well.
In 2000, Fey began performing in sketches, and she and Jimmy Fallon became co-anchors of SNL's Weekend Update segment. Fey said she did not ask to audition, but that Michaels approached her.
When Fallon left the show in May 2004, he was replaced on Weekend Update by Amy Poehler. It was the first time that two women co-anchored Weekend Update.
She made her debut as writer and co-star of the 2004 teen comedy Mean Girls. Characters and behaviors in the movie are based on Fey's high school life at Upper Darby High School and on the non-fiction book Queen Bees and Wannabes by Rosalind Wiseman.
Fey is also best known for her roles as Liz Lemon in 30 Rock.