Trang Pak is a character in the movie Mean Girls. She is portrayed by Ky Pham.
Trang Pak is one of the
Cool Asians
at
North Shore High School
, and is believed to be the clique's 'leader'. While her character doesn't actually play any significant role in the movie's main plot, she has shown to be really bossy and arrogant.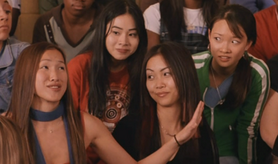 Even though the film makes no mention of her having any siblings, Tina Fey confirmed in the commentaries that Trang Pak is actually Tim's little sister.
Mean Girls
Trang Pak makes her first appearance in the cafeteria, along with the rest of her Cool Asians clique. As Cady was walking pass her table, Trang gave her a cold, judgemental look and placed her bag on the empty seat so Cady couldn't seat there.
Later in the movie, Damian Leigh and Aaron Samuels caught her making out with Coach Carr in the projection room above the auditorium.
After Regina published the pages of her Burn Book (which said that both Trang Pak and Sun Jin Dinh were romantically involved with Coach Carr) the two got into a vicious cat fight, before Principal Duvall stopped them. Afterwards, Coach Carr reportedly flees school property, thereby confirming his guilt and at least one of the allegations in the Burn Book.
Gallery