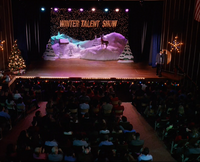 The Winter Talent Show is an annual event at North Shore High School.
Every year The Plastics perform "Jingle Bell Rock" They have been credited as Santa's Helper's for the show. Principal Duvall hosted the event. The film did not show who the winner of this talent show was, but judging solely by the audience's reaction, it's presumed that the Plastics won the competition this time as well.
The talent show featured in the film Mean Girls was held on November 27, 2003. The date being Thanksgiving.
The Show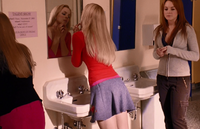 Damian Leigh kicked off the show, performing "Beautiful" by Christina Aguilera, accompanied by Sharon Norbury on the piano. During his performance, he was being made fun of by the students in the audience, most notably Jason.
The second act of the show was a group "K.G. and the Power of Three", made by Kevin Gnapoor, Tim Pak and other two unnamed male students. Lyrics of the group's hilarious song can be found on Kevin's page.
Finally, last but certainly not least, were the Plastics. While performing the "Jingle Bell Rock", Gretchen accidentally kicked the radio, which made the track stop. Luckily, Cady jumped in to save them with her own voice while Mrs. Norbury jumped in to save them with a piano. Judging by the reaction of the crowd, the Plastics presumably won the competition.
Community content is available under
CC-BY-SA
unless otherwise noted.